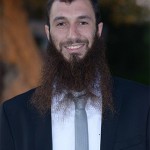 Shimon Gantz was born in the Old City in a house filled with aromas of ancient Jerusalem and was raised with the Western Wall and the shuk as his backyard. He has more than 7 years of experience guiding and organizing bar mitzvot and other events at the Western Wall, in other locations in Israel and around the world. Shimon is a rabbi, scribe, event planner, and director of Jerusalem Simcha.
Jerusalem Simcha specializes in organizing simchas in Jerusalem: in the Old City and at the Western Wall. We have vast experience, profound knowledge and a winning team of professionals, who pay personal attention to every detail.
We will be happy to organize your happy event!
Bar Mitzvah
Bat Mitzvah
Wedding
Shabbat Chatan
Halakeh (haircutting for 3 year old boy)
Or any other event that you might be dreaming of
We invite you to join the hundreds of satisfied customers and receive our perfect package of services that has been custom-made to fulfill your needs. We will adapt to your needs and wishes to fit your budget, while maintaining the highest professional standards, with no compromise in quality or taste!
Jerusalem Simcha is proud to organize your event, a day you will remember for ever more.
We're waiting for you at the Western Wall – the Jerusalem Simcha Staff!